A number of guides have mentioned that because Lima is so grey (it has an intense marine layer/fog blanketing the city most of the year) the residents take special pains to bring color into their homes and lives. I think this is a good description of Lima in general. Your first impression is of a grey, dusty, traffic filled metropolis; but if you give the city a chance and look past the grey, it is filled with colorful places and people.
The neighborhoods of Miraflores and Barranco are known as bohemian, artist enclaves. Filled with small art shops and museums, home to famous writers, poets and musicians a walk through the area also reveals a bevy of public art and murals.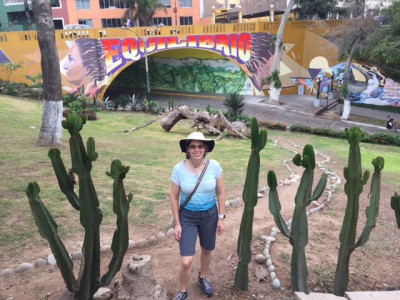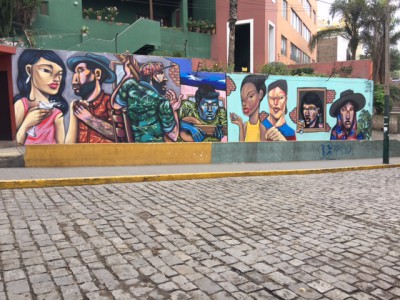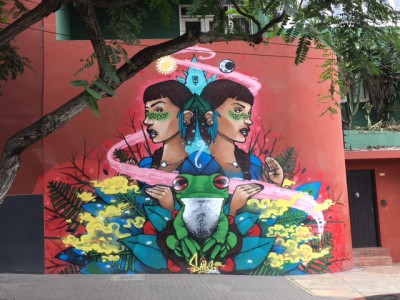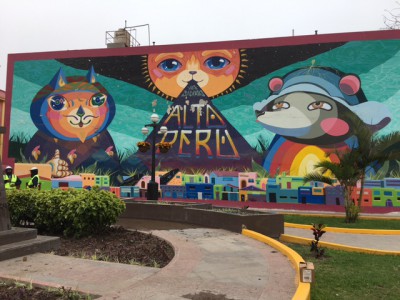 Then in downtown Lima, inside a massive grey warehouse is a market filled with fruit, vegetables, spices, nuts and multiple types of potatoes (Peru has about 4000 varieties of potato!)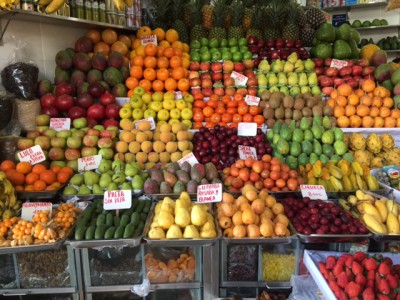 This is a slice of squash! All the produce is huge compared to what you find in the U.S.!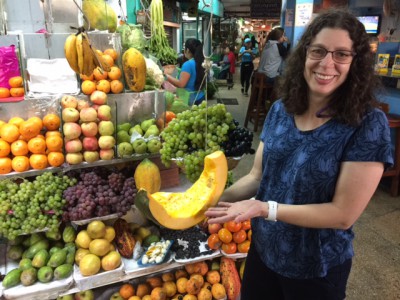 A wide variety of nuts, spices and chilies are available too.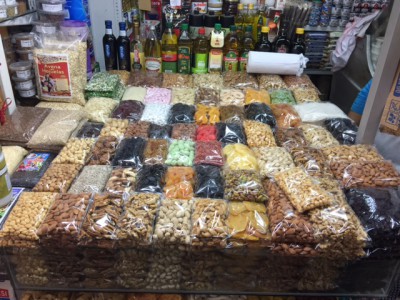 As befits a city filled with fresh food markets, meals in Lima are a special treat. Every meal, every day at every restaurant is fantastic. The city is home to an outlet of the famous Cordon Bleu cooking school and many a famous chef has set up shop here.
One fun activity is to visit the markets with a guide/chef and then return for a cooking class with fresh ingredients and friendly instruction.
On tonight's' menu: Causa Rellena
Causa takes its name from the old Incan Quechua word kausaq, which means "giver of life," another name for the potato. Rellena is the Spanish word for "stuffed" or "filled." Ours are stuffed with alternating layers of tuna, avocado, homemade mayo and homemade chili sauce.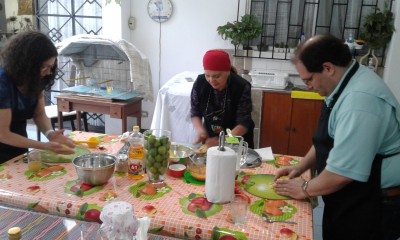 I'd like to blame the sideways picture on the homemade Pisco Sours, but it is really the computer's fault for refusing to place us right side up!
The main course was Ceviche, but of course. Yum!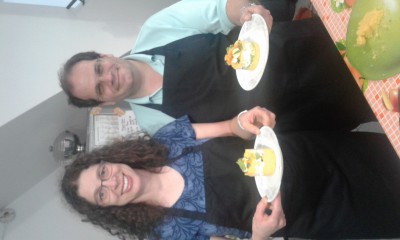 Next step, Paracas!
I hope you have enjoyed this snapshot of Lima.
Want to visit Peru? Contact me. I will prepare a trip tailored to your wishes.
Contact Lauren Rock 404-372-3403 or
laurenrock@dynamic-escapes.com
Click here to return to my website's "About Me" page
http://dynamic-escapes.com/about.html