It has been a long full day in Lima. We landed at 6AM, braved some CRAZY traffic to make it to the hotel in time for breakfast before heading out for a tour of the city. I know many people have a negative image of Lima – it's grey, smells bad, is post-apocalyptic looking, an, there are stray dogs everywhere- are among the main comments I heard pre-arrival. And yes, the area near the airport is all of those things. But if you give Lima and chance, and take the time to venture out and look behind the building facades, you realize the city is more than your first impression.
It is a multi-layered place with ruins right in the city, pictured here is La Huaca Pucllana. An Adobe and clay pyramid structure circa 500-900AD

Grand public spaces – Plazas, are central to life in Peru, here is one of the best examples, Plaza San Martin A UNESCO World Heritage Site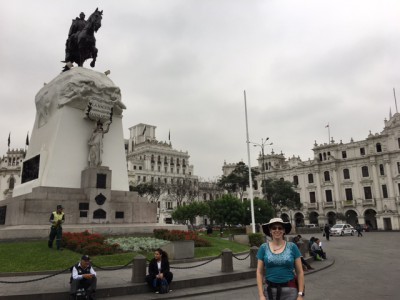 Another grand space in the Historic Center of Lima is the Plaza Mayor, the birthplace of Lima first built in 1535 these beautiful buildings are now home to the present day Presidential Palace; the Cathedral of Lima- whose center is original but towers were rebuilt due to earthquake damage; the Archbishop's Palace with it's magnificent Baroque wood balconies; and the yellow toned Municipal Palace home to Lima city government. The video was to big to download but here is a series of pics to give you a 360 glimpse of the Plaza. Be sure to zoom in on the hand carved facades.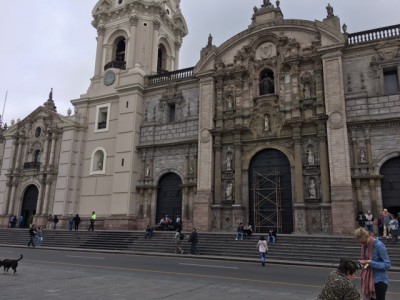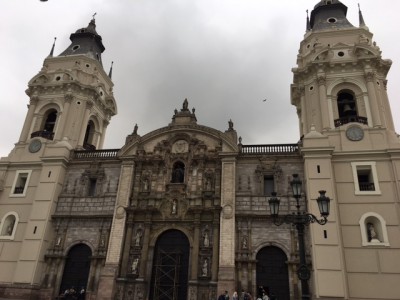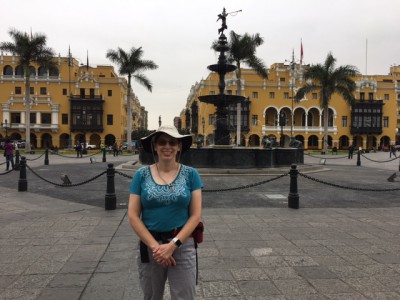 Next up is church of Saint Francis of Assisi and next door Monastery with magnificent tile work, paintings, wood carved ceilings, and catacombs below. Alas, pictures are not allowed. Zoom in on the front entrance of the church for a hint of craftsmanship that lies within.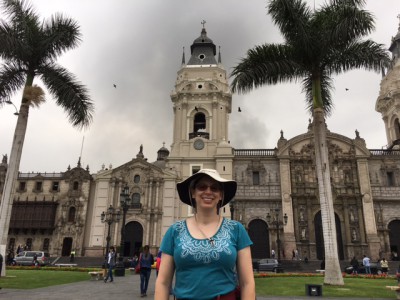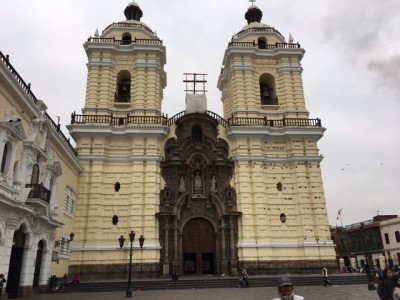 After seeing the heart of Lima we headed to Miraflores and Barranco. These neighborhoods are home to boutique shops and restaurants, quieter neighborhoods then Lima proper and a coastline that sparkles when the sun comes out. Here are some shots: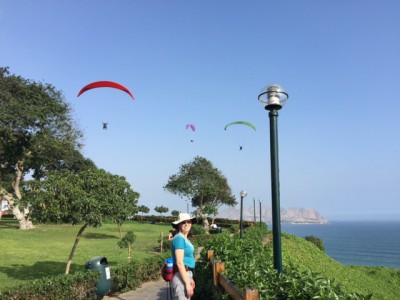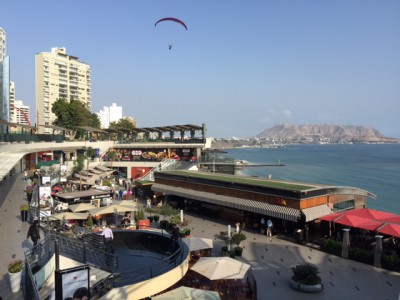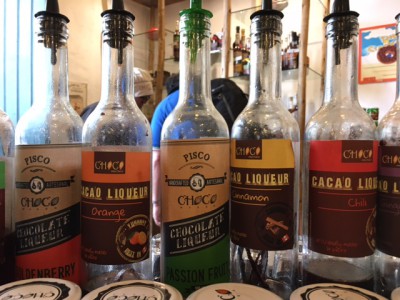 Last but not least, one highlight was the Choco Museo which has all kinds of tempting treats including Pisco drinks mixed with Chocolate and various other flavors. Taste testing was fun!
And now, for the first time in 48 hours, I'm off to sleep in a real bed!
I hope you have enjoyed this snapshot of Lima.
Want to visit Peru? Contact me. I will prepare a trip tailored to your wishes.
Contact Lauren Rock 404-372-3403 or
laurenrock@dynamic-escapes.com
Click here to return to my website's "About Me" page
http://dynamic-escapes.com/about.html